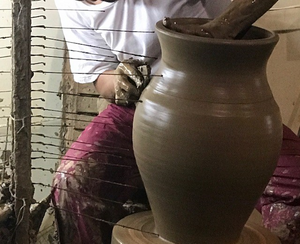 Terrace & Garden
Terrace & Garden was established in 1989, a family business based deep in the Essex countryside.  We have been lucky enough to have been granted the official worldwide licence for Royal Botanic Gardens, Kew pots and planters, of which we are extremely proud.  Every piece is carefully and skilfully crafted by hand by artisans in the Philippines, making each piece unique.   They are then glazed in a myriad of beautiful colours.  We have worked with the same family run business for over 25 years; this partnership has enabled the brand to grow and become a highly desirable "classic", not just in the UK but around the globe.

In recent years we have started working with another company of very skilled craftsmen in Vietnam, producing stunning hand cast terracotta pots, The Frostproof Collection, to the same high standard and the same superb quality.

To compliment the range of pots and planters, we also have a great range of homeware & gifts to suit all ages, from glassware, wirework, candlesticks, lanterns -  the list goes on....

Enjoy!